The crisis of the Covid-19 has led to a mutation of the habits and especially of the working spaces. In particular, the rise of new working methods such as flex office, hot-desking, home office, coworking.
Spacelab has conducted a study which asked how people feel about home office. The result shows that overall people are very happy to work from home: 47% are happier at home, 34% are "about the same" and only 19% are not happier. An evolution of offices is needed. CEOs and Office Managers are facing the challenge to re-enchant the return to the office to attract employees to their premises.
At Calamp Office Design we believe that the modern, post-covid office allows employees to develop relationships. And with home office on the rise, this interactive aspect has become more relevant than ever. Therefore, we believe that the modern office consists of a blend of 3 areas: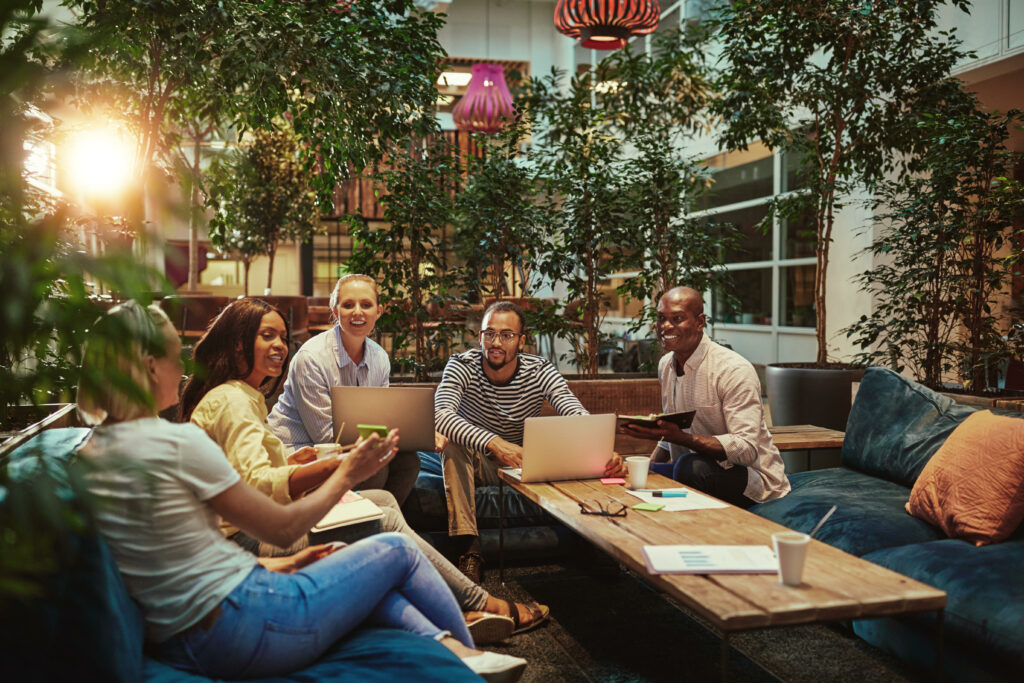 1. Community building and bringing the brand and culture to life. An informal, spontaneous, and fun space where employees can meet and interact.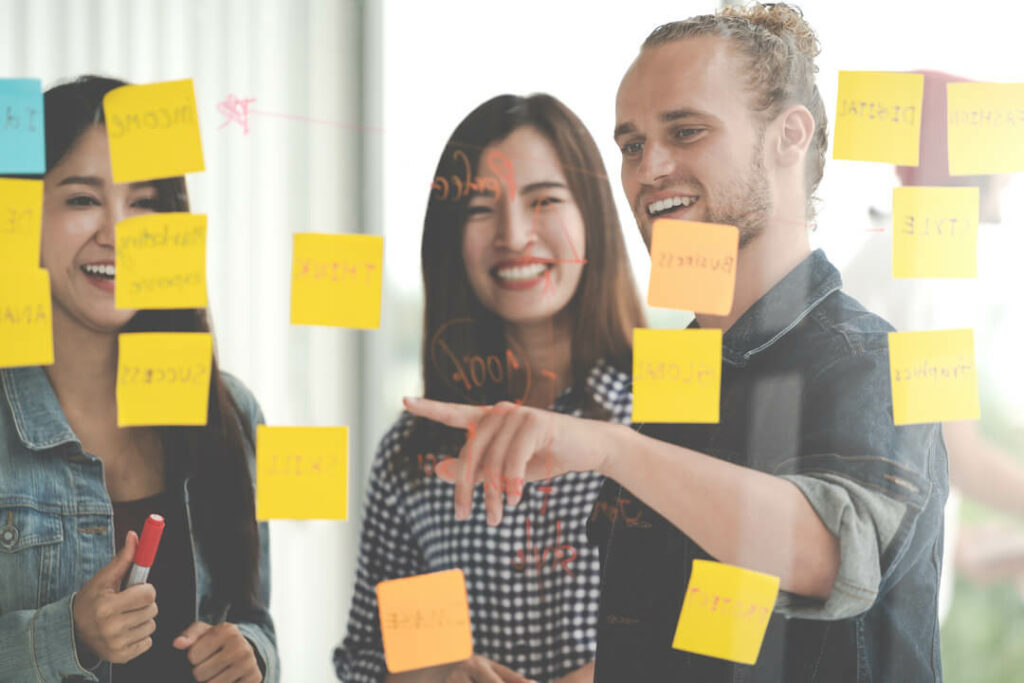 2. Problem-solving and outcome-based working in face-to-face settings. Offer different spaces to work with a team or retreat and work alone. These collaborative spaces are designed to help teams solve problems through short, intensive pair or team exchanges.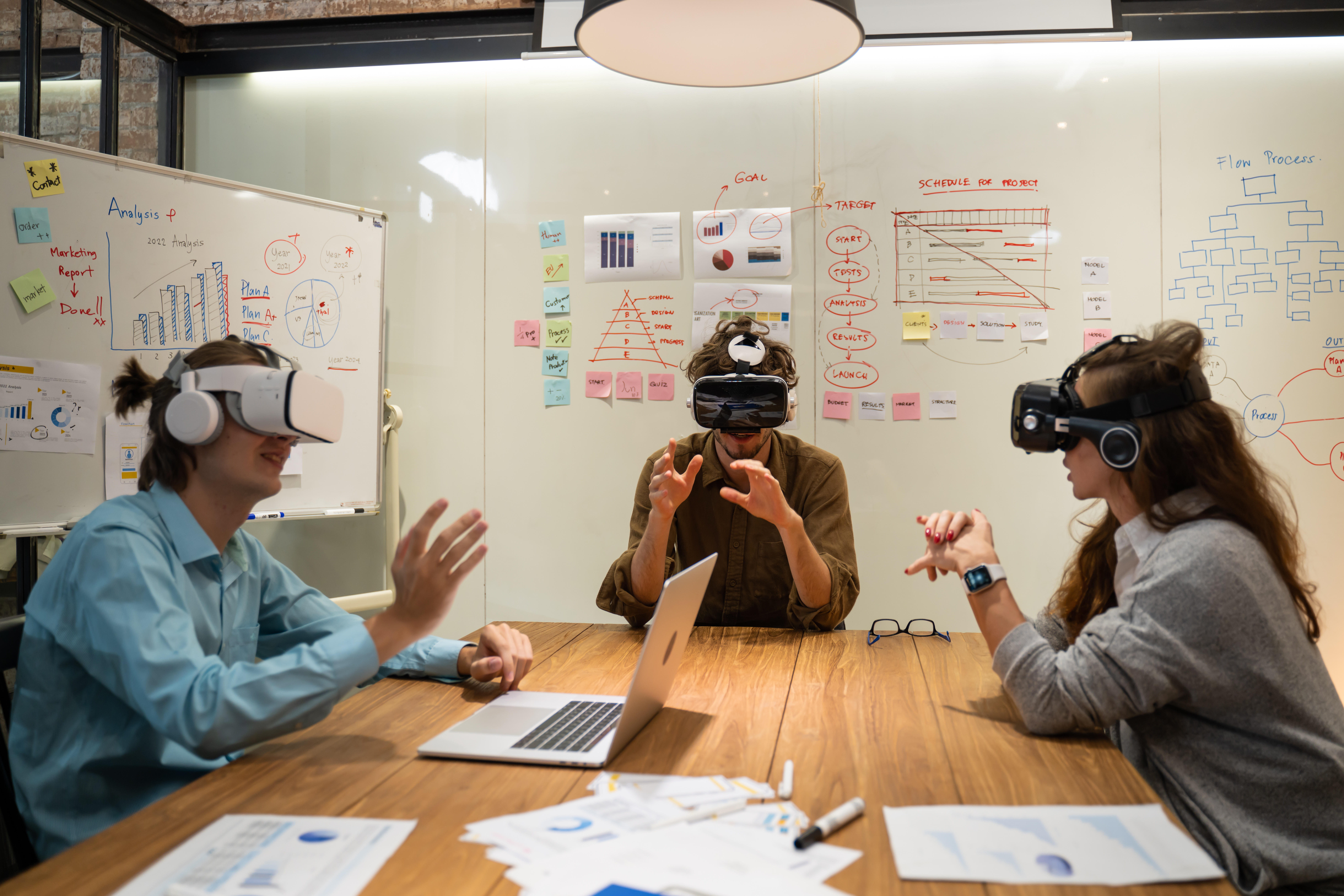 3. Innovation and ideating to stay ahead of the curve. Innovatively designed collaborative spaces for longer creative sessions that bring ideas to life.
When we are looking at hybrid work set-ups, what is important is not where you are working, but what you are working on. It is essential to focus on and invest in those community spaces which support the overall experience of the workplace. With this approach, corporate offices will change to become a collaborative hub.
Great workplaces give people a diverse range of spaces so they can choose where to work from, depending on the task at hand, their personality, preferences, or simply how they are feeling that day. It contributes to the employee feeling supported, giving their best work, and feeling their best self.
A well-executed space planning achieves this goal by using the available space and some equipment from the current office while adding new elements to top it all off.
Here are a few examples of easy tricks that early achievers used to transform their office into a modern post-covid workplace:
1. Collaborative meeting rooms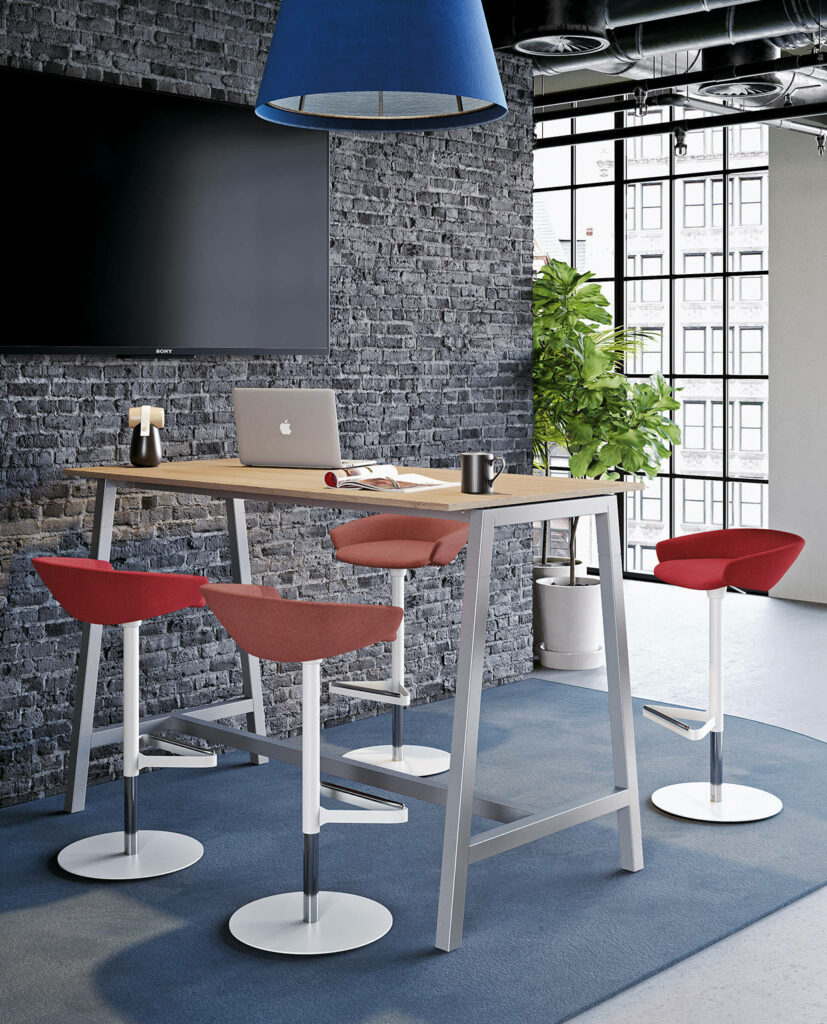 Goodbye to the traditional meeting room with chairs surrounding a big table, where we dare not to express ourselves. To be a real source of added value in the company and in team communication, the meeting room must be attractive for the collaborators and must be able to make interactive work simple. To make the meeting room a collaborative environment, space is freed up to encourage movement with furniture that can be easily moved around. We equip the room with writing boards, ottomans, chairs on wheels, chairs with a tablet included, interactive screens, etc. to allow teams to brainstorm, use agile work methods, share information, dialogue…
2. Alcoves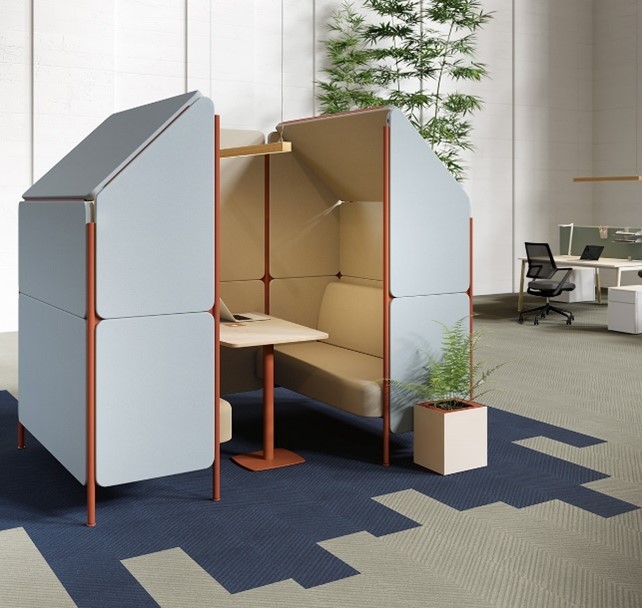 Think of installing furniture that can promote concentration and privacy of employees. Alcoves are designed concentration cells to find peace and quiet in the open space. It is a confidential and soothing workspace, dedicated to individual or collective missions.
3. Phonebooths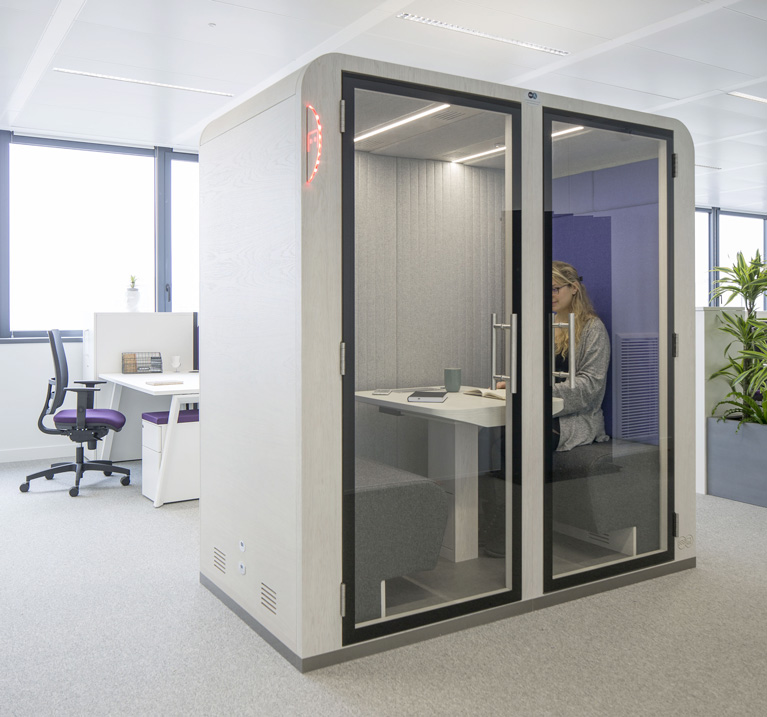 A small room in the open space. With the door closed, you have the freedom to work without being disturbed, to make discreet phone calls, and to be alone. They are functional, mobile, and acoustic.
4. Relaxation and rest areas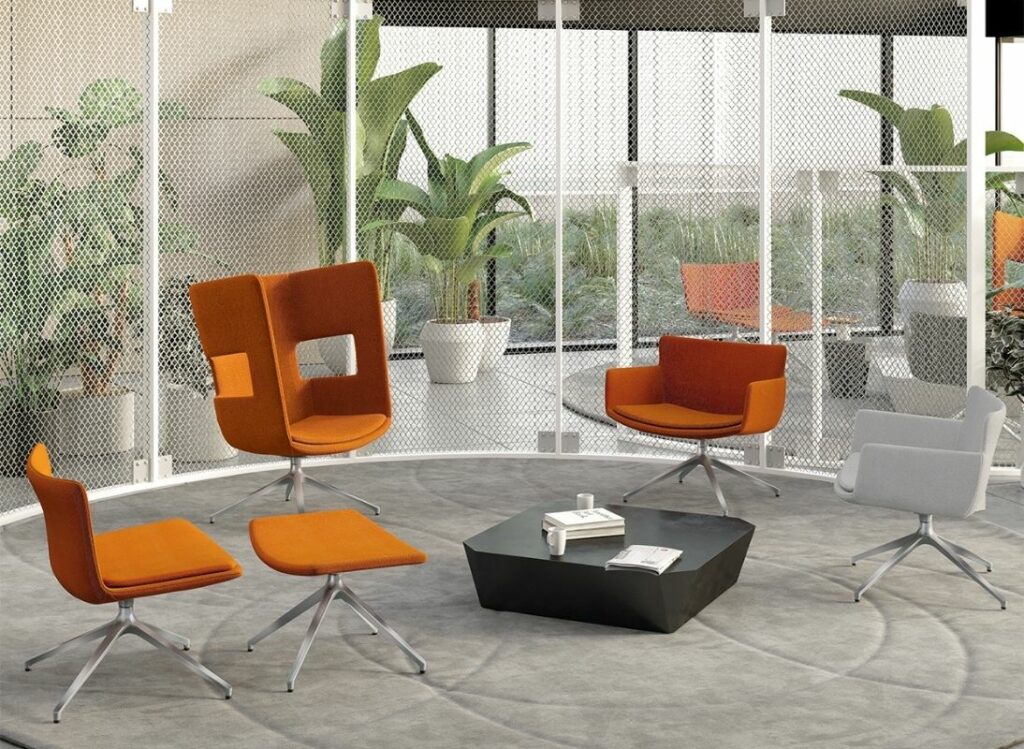 This space will allow your employees to escape for a few minutes from their workstation, which is beneficial for their concentration and productivity, but also their ability to step back and get new ideas. The well-being of employees is a major factor of growth for the company. In this space, we will opt for comfortable furniture such as sofas and armchairs, or even ottomans, in which it will be pleasant to have a coffee or review a document that requires a low level of concentration.
5. Acoustic panels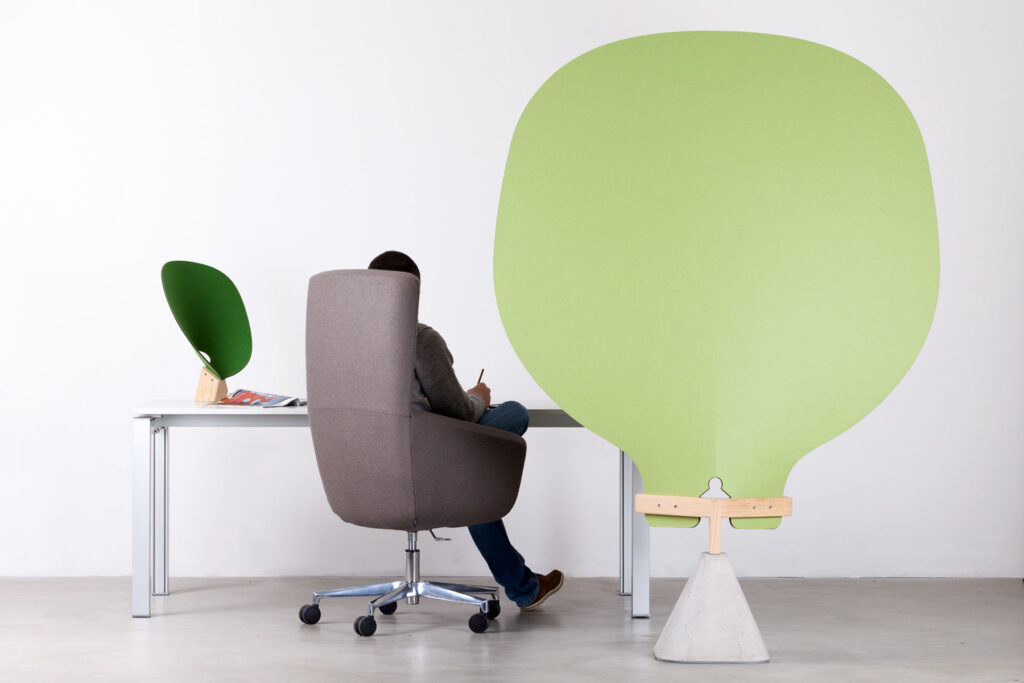 More than ever, noise pollution is a major concern in space planning. Acoustic panels help promote productivity and comfort for a healthy work environment.
6. A green touch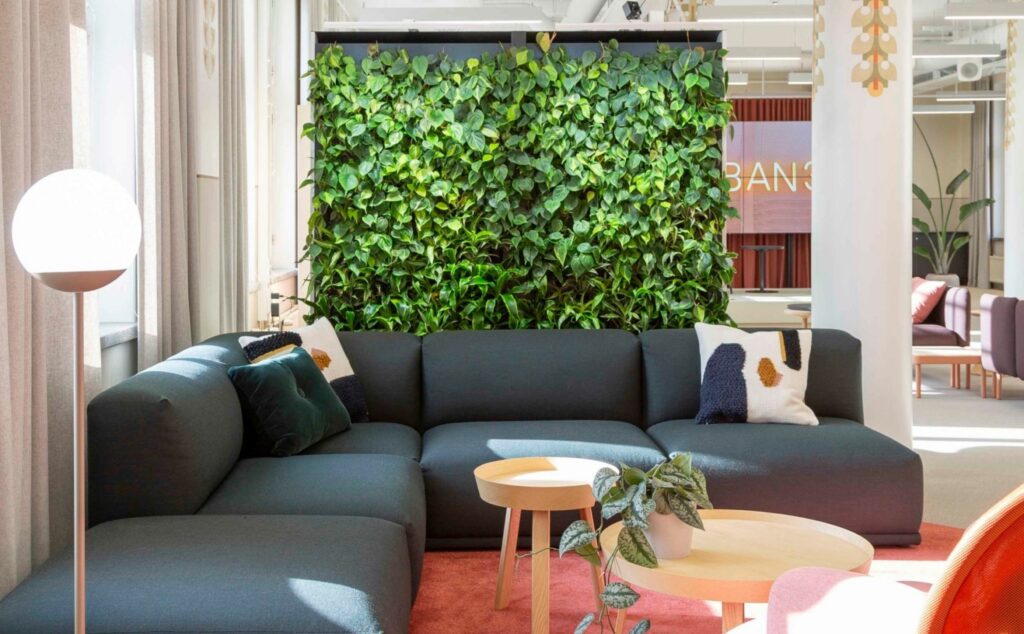 Plants will have a calming effect on your employees. More and more of them want to be closer to nature, adding greenery in your premises will increase their motivation and attachment to the company.
7. Lockers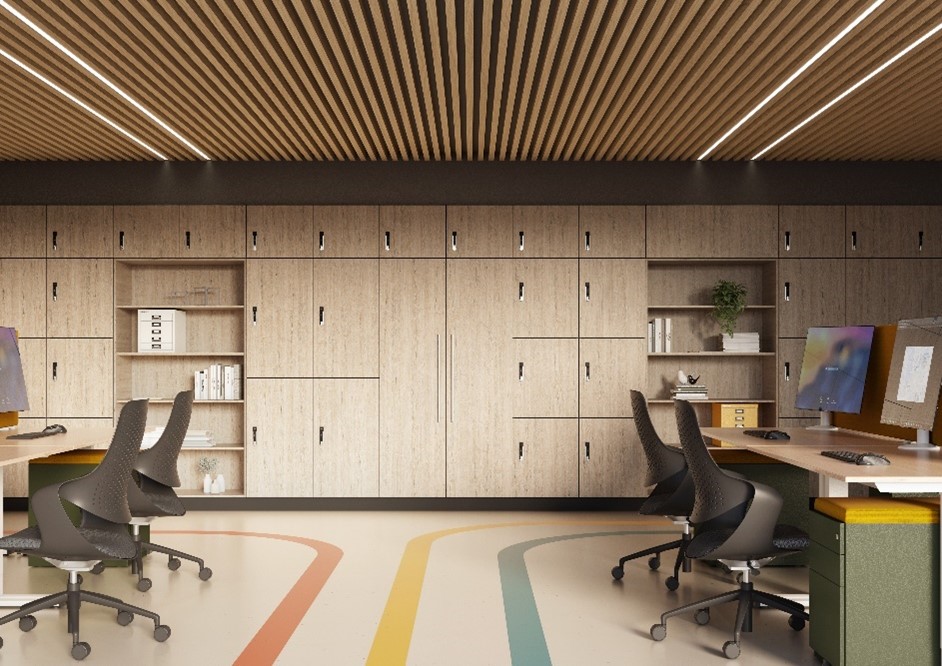 If you practice flex office, don't forget to add lockers in which your employees can store their personal belongings.
---
The pandemic has changed how and where we work, but proactively planning for your future office environment, can help you make informed decisions and help you meet your business goals. Some organizations have used the pandemic as an opportunity to create an environment that's more efficient and modern for today's workers. Why not you?
Contact us if you need advice on redesigning your office.
We offer space planning for your new or existing office and work with a large range of suppliers offering any kind of furniture in all price segments.
The possibilities for creating a modern workspace are endless. Calamp Office Design is here to help you create an authentic, desirable experience for your employees at your workplace.